Early September 2013 I had the pleasure of traveling to New York as part of the Roosevelt Study Center's Theodore Roosevelt American History Award. Together with my friend Kyra Fastenau I went to New York to receive an exclusive four-day tour of sites meaningful to the Roosevelt family. Laurence Pels of the Theodore Roosevelt Association was our host in Manhattan and Oyster Bay, and David Woolner of the Franklin and Eleanor Roosevelt Institute hosted us in Hyde Park.
We got a special tour at the Theodore Roosevelt Memorial Hall at the American Museum of Natural History. Be it knowing all the birds by heart, going hunting, or creating the national parks system as President, TR really had a special bond with nature, and the memorial portrays this with impressive dioramas, which stage different parts of nature present in TRs life.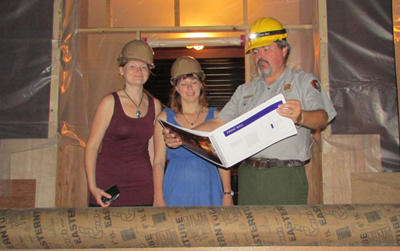 The next day we went to Oyster Bay. Only an hour outside of the crowds of Manhattan, the nature and peacefulness of the bay was a refreshing change. Oyster Bay is where TR felt most at home, where he went to church with his family, and where he is buried. Here we were very lucky to get a hardhat tour of TR's home at Sagamore Hill, which is currently closed for renovation. This was a unique opportunity to see how the National Park Service works on its restoration. Even though the furniture was wrapped in plastic or removed, and the lights were off, the guides were still able to convey to us how much TR and his family loved the place.
Coming from the Netherlands, it was of course great to see all the Dutch colonial architecture at Hyde Park, and to hear how proud FDR was of his Dutch heritage! We spent a lot of time at the recently renovated FDR museum and library. It featured many touch screens and panels to convey the story of FDRs life, including the work that went into shielding from the public the fact that he could not walk. It also gave a thorough background of the times the country lived through during his four-term presidency.
The next day we visited Eleanor Roosevelt's personal home, called Val-Kill. Our tour guide, Frances, was a very special lady who knew Eleanor personally. The furniture in the home was all made in Hyde Park itself, and, surrounding the numerous chairs for Eleanor's guests to sit in, was an overwhelming number of photographs of people whom Frances could all identify for us. Eleanor's home really illustrated what a warm person she was, someone who cared little for etiquette, but all the more for her visitors themselves.
One of the things I will take away from this four day crash course into the Roosevelt family is that they are endlessly versatile: for every one story told there is another surprising detail that you did not know about. I felt very privileged to be listening to the enthusiastic stories of the people that have studied them, and next time I hear the name Roosevelt I will smile and remember the time I got to see the beautiful environments that were such pivotal parts of their lives.